Products
SimSteering System
Standard Kit Components and Specifications

SimSteering Control Box
High precision and strength servo motor (16Nm Torque - Resolution 10,000 PPR)
2m motor cables
3m USB Cable
Choice of UK, US or EU power Cable
Emergency Stop Button
Powered by regular mains power - 100 to 240V (AC)
Generic Windows gaming device - Will work with any game that offers force feedback. No plugins or drivers required.
Tested on rFactor 1&2, Assetto Corsa, iRacing, DiRT 1,2&3, F1 2010 - 2013, P. C.A.R.S, all SimBin titles, Richard Burns Rally plus many more.
Designed and made in the UK using high quality and reliable components.

Alternative steering motors for higher or lower torque levels and custom cable lengths are also available.
Description
A high performance steering system for professional use. The high precision and completely linear response, coupled with high strength provides the ultimate in realistic steering force feedback for all types of driving.
Typical applications of the steering system include:
- Road and race car training simulators
- HGV training
- Public display simulators (such as static F1 show cars etc)
The box is powered by standard single phase mains voltage from 100v-240v for worldwide compatibility
PC connection is through USB and is detected by Windows as a standard gaming device. No drivers or plugins are required. Compatible with directX allowing excellent compatibility with current and future simulation software.
The motor and control box are separated and connect as standard by two, two metre cables* which gives great flexibility for mounting solutions. Typically the motor is mounted inside or at the end of a cockpit and connected to a steering column. Desktop motor mounting solutions and options for direct wheel connection to the shaft are shown further down the page.
A 3D model of the motor is available on the
Downloads
page to assist you with your own mounting solution.
Modular system that allows you to connect various motorsport steering wheels or your own steering column. We also have a range of our own simulator steering wheels. These do not electronically connect to the SimSteering system and are connected to the PC separately. Pedals are also treated as separate devices.
All SimSteering products are designed and hand built at our facility at Silverstone with a focus on high quality and reliability. The original version of the system designed in 2009 by Leo Bodnar has been used day in day out by many professional driver training centres, race teams (including F1), public display simulators and sim racers worldwide since 2010.
Being based at Silverstone UK - the home of British Motorsport has given us the opportunity to work closely with race teams, drivers and simulator manufacturers to create the most realistic steering system available on the market.
*alternative cable lengths are available at additional cost.
PRICE
Starting from: £2400
Optional Extras
This is just a very small fraction of our full range of products. We also manufacture a range of USB interface boards, shift lights and accessories for simulation use. Please visit
www.leobodnar.com
for more information.
---
Shaft Clamp Adaptor
This clamp fits to the motor shaft and allows direct fitment to the majority of Motorsport, Rally, Race, Formula, Kart etc steering wheels and/or wheel spacers and quick releases with 70mm & 50.8mm bolt patterns - (Standard Motorsport Fitments)

Road Car wheels can also be adapted to suit using 3rd party wheel bosses/adaptors.

Material: Blacked Steel

PRICE
£80

Lightweight aluminium version available soon
---
Steering Wheels
Precision Sim Engineering GT3
310mm Lightweight Sparco GT rim

Motorsport quality Aluminium paddle shifters

6 High quality Knitter pushbuttons

2 Toggle switches (2 way)

2 Rotary encoders

Motorsport quality coiled fly-lead with intermediate connector (USB)

Optional large Carbon Fibre shifter paddles

Various sticker options


PRICE
Starting from: £895
GT2 COMING SOON - Pricing and availability TBA

---
Precision Sim Engineering LMP3
270mm Lightweight Momo Formula/Prototype rim

Motorsport quality Aluminium paddle shifters

Aluminium Quick-Release

6 High quality Knitter pushbuttons

4 Rotary encoders, each with a built-in pushbutton

Motorsport quality coiled fly-lead (USB)

Various sticker options

PRICE
Starting from: £895
LMP2: COMING SOON - Pricing and availability TBA
---
GP2/3 & Renault World Series Steering Wheel
XAP Steering wheel as used in GP2/GP3 and Renault World Series featuring Leo Bodnar electronics for simulator use. Full colour screen.

Supports over 30 games with software plugins by Fanaleds.

PRICE
with Gear Paddles : £1500
with Gear and Clutch Paddles: £1750

Quick release with or without electrical connector sold separately. Please ask for pricing.
---
---
Carbon Fibre F1 Simulator Wheel
Created from a real F1 wheel design. Standard wheel supplied with Precision Sim Engineering shift paddles and quick release suited for the SimSteering System. Quick release spigot can also be welded to a steering column.

Options Available:
Choice of SLI-Pro or SLI-F1 display, Clutch paddles, button and switch layouts.

PRICE
Starting from £1500
---
GT/Rally SimSteering Wheel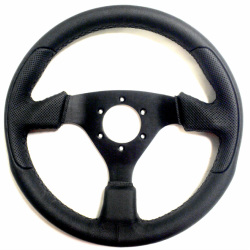 A basic GT wheel that can be used for testing the system before adding your own wheel. Also a great starting point for to add shifters, buttons and SLI displays.

Outer Diameter: 330mm (13 inches)
Bolt pattern: 6 x 70mm

Supplied with 6 black M5x16 countersunk screws and black centre blanking plate. Fits directly to our SimSteering shaft clamp adaptor

PRICE
£40

---
---
Motor Mounting
Black Shark Motor Mount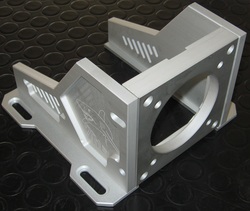 Lightweight, adjustable and attractive motor mounting solution.
Supplied with all necessary screws.

Now only available in black.

PRICE
£170



---
Basic Mounting Bracket
Fixed mounting bracket for the SimSteering Motor.

Manufactured from Steel with black finish.

Designed primarily for testing and setting up the steering system before permanent mounting to a cockpit.

Stainless Steel Fittings Included.

PRICE
£30

---
---
All prices on this page are exclusive of VAT