SimSteering GT1


Product Description
310mm Lightweight Sparco GT rim

Motorsport quality carbon fibre paddle shifters
High quality colour LCD screen with scroll-able pages via toggle switch

8 red RPM shift lights, and 4 multicolor alert leds

6 High quality Knitter pushbuttons

Supplied with Aluminium Quick-Release - Bolts directly to our shaft clamp adaptor
2 Toggle switches (2 way)

2 Rotary encoders

Motorsport quality coiled fly-lead with intermediate connector (USB)
For simulator use on PC or Mac
---
SimSteering GT3

Product Description
310mm Lightweight Sparco GT rim

Motorsport quality carbon fibre paddle shifters
6 High quality Knitter pushbuttons

Supplied with Aluminium Quick-Release - Bolts directly to our shaft clamp adaptor
2 Toggle switches (2 way)

2 Rotary encoders

Motorsport quality coiled fly-lead with intermediate connector (USB)
For simulator use on PC or Mac

---
GT-AM
Features:
10 Push Buttons

Motorsport quality coiled fly-lead with intermediate connector (USB)
Motorsport quality Aluminium paddle shifters fitted as an optional extra
Quick release fitted as an optional extra

Can be bolted directly to the SimSteering Shaft clamp adaptor or via optional quick release

Has both the standard 3 bolt 50.8mm PCD and 6 bolt 70mm PCD patterns as found on most motorsport wheels
Caters for a large range of third party quick releases and/or adaptor plates/bosses if you wish to fit your own

For simulator use on PC or Mac
---
GP2/3 & Renault World Series Simulator Steering Wheel
Features:
Real Steering wheel hardware sourced directly from XAP as used in GP2/GP3, Renault World Series, F3, Formula-e and other championships.
Featuring electronics solely designed by Leo Bodnar for simulator use. All parts inside the wheel are designed and manufactured in-house.
Same model full colour TFT screen as used by XAP in the real wheel for the ultimate in realism.

Two replica screen layouts from GP2/GP3. Switchable by using two scroll buttons on the wheel. (Other screens can be made available by request)

Completely standalone USB device. Supplied with rear fixed USB fly lead as standard for wheel with gear shifters only. Models with clutch paddles must use an electrical connector through the quick release.
Can be supplied with original wheel internal mil-spec connector to allow connection to a real steering column for use in a simulator.
Your own connector can also be sent to us and fitted to a fly lead at the rear (as pictured). Additional charges may apply for any modification work that may be required.
Supplied as standard without quick release ready for your own. Hole cutout in the rear is designed for SPA or Sadev QR however others may also fit. We can also supply with a Go-Race engineering quick release with the male part that that bolts directly to our shaft clamp adaptor. (See below)
Supports over 30 games including rFactor, iRacing, Assetto Corsa etc with software plugins by Fanaleds - www.fanaleds.com

See the wheel in action here along with our SimSteering system:

---
Formula Quick Release
Formula Bolt-On Quick Release made in the UK by Go-Race Engineering.

- Supplied as standard on the GT3, LMP3 and Carbon Fibre Formula steering wheels.
- Optional extra for the GT-AM and GP2 steering wheels. (GP2 wheel also requires a small spacer block)
- The 3 X 50.8mm PCD hole mounting pattern is also compatable with most 3 bolt competition steering wheels (Sparco, MOMO, OMP etc.) This gives you the compatibility to also connect your own motorsport wheel to our steering system so you can easily switch with any of the wheels bought directly from us.
- 6 X 70mm PCD holes on the male boss bolts directly to the SimSteering shaft clamp adaptor.
- Precision CNC machined from high quality materials.
- The anti-play mechanism prevents rotational play and ensures that a solid feel is maintained.

Why use a Quick Release?
Probably the most important reason to fit a quick release to the steering wheel of a real race car is safety. A quick release steering wheel allows you or a marshal to remove your steering wheel quickly without the need for any tools to allow you to exit the car quickly and easily in the event of an incident.

In a simulator, the risk of a real crash is, well, pretty minimal. A simulator gives you the ability to switch between a vast range of vehicle types however, each with their own steering wheel types. Therefore a quick release is the best solution to easily switch between the different wheels that you may have in your inventory. It also allows you to get in and out of your cockpit more easily. Choosing the right quick release is crucial. As our steering system provides true-to-life forces it is of utmost importance to use a quick release which does not have any play, or develop play over time. The Go-Race Engineering quick release is the perfect blend of performance, quality, price and compatibility which is why we supply them with our wheels.

---
GT/Rally SimSteering Wheel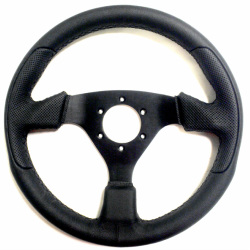 A basic GT wheel that can be used for testing the system before adding your own wheel. Also a great starting point for to add shifters, buttons and SLI displays. Covered in leather.

Outer Diameter: 330mm (13 inches)
Bolt pattern: 6 x 70mm
Weight: 890g

Supplied with 6 black M5x16 countersunk screws. Fits directly to our SimSteering shaft clamp adaptor.


---
Other Products
This is just a very small fraction of our full range of products. We also manufacture a range of USB interface boards, shift lights and accessories for simulation use. Please visit
www.leobodnar.com
for more information.
---